Small Earth Works Services in Rockingham and Mandurah
Small earth works are a common part of commercial and residential building projects, as well as site clean-ups, concreting, and other major site work (and more). Looking to build a pool in your backyard? Or fill a hole into a house that you are moving into? We are known to work quickly and precisely, and level and clean sites. We can offer small earth work services for landscaping projects such as clearing the site, groundwork, digging trenches, and small excavations. We specialize in tailor-making a small earth work solution and offering advice to fit your needs.
Get Expert Opinion
We are qualified for tackling all small-scale projects. We can work quickly and precisely and help level and clean sites of any size. At Swell Irrigation, each service is specifically designed to address a client's unique need. We carefully consider the project requirements and any critical path items as we plan, estimate, and schedule the project. Your small earth work project can be fully handled and executed to perfection by us, whether you only require a small excavation and operator for a day or would want a whole earthmoving task done!  If you have any questions regarding our excavation, trenching, and earth moving services, please get in touch with us.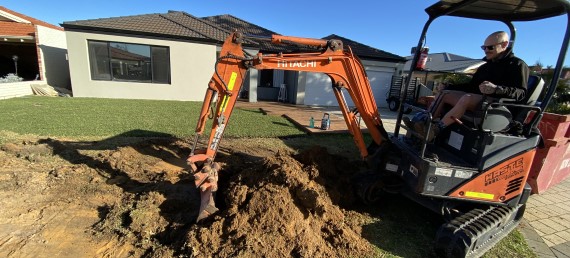 Work With The Best
For all small earth works, Swell Irrigation offers access to custom solutions tailored to your project. We offer a wide our services to all sectors including residential, commercial, construction, government and agricultural sectors. For us, customer satisfaction is very important, so we constantly strive to build strong business relationships with customers in everything we do.
Why Choose Us?
It is crucial to ensure that every aspect of your project—from excavation to earthmoving—is completed exactly as you have specified. Contacting Swell Irrigation's team is crucial for this reason. We have offered top-notch services to business developers, private homeowners, and governmental organisations alike. Our professionals are dedicated to producing results that last for a very long time. You may rest easy knowing that we will complete the project on schedule whether you need land clearance or driveway construction.
Get in Touch
FAQ's
Frequently Ask Questions
1.

What is small earth works?

Small earth works generally fall under residential jobs such as grass removal, sand removal and trenching.
2.

Does Swell demolish small retaining walls and garden beds?

Yes of course, we can do it safely and leave no mess.
Quality Services is what we do!
Interested in any of our services? Contact us to make an appointment and get started!
Copyright © 2022 Swell Irrigation. All Rights Reserved