Residential Irrigation Services in Mandurah and Rockingham
Rain is the best and cheapest way to water a lawn, but it is unpredictable. Moving sprinklers takes time for the homeowner and can easily lead to over- or under-watering. This is where automated residential irrigation system can help. They keep lawns healthy by watering, fertilising, and maintaining them regularly. We can install residential irrigation system in Rockingham, Mandurah, Golden Bay, Baldivus, Kwinana, Shoalwater, Port Kennedy and Karnup that distributes water evenly and consistently, maintaining yards and gardens looking their best. We install the best system for conserving water and saving money.
How Residential Irrigation Systems Work
Residential irrigation systems are designed to automate the watering process, ensuring consistent moisture delivery to gardens, lawns, and other landscaped areas. The system typically comprises a controller (or timer), valves that open and close to release water, and a network of underground pipes leading to sprinklers or drip lines. Depending on the needs of specific plants and zones, the controller schedules the watering frequency and duration, ensuring each section receives the right amount of water at the optimal time.
Expert Consultation: Designing an Irrigation Plan for a Vibrant Landscape
A successful irrigation system starts with a well-conceived plan. At Swell Irrigation, our expert consultations delve deep into the nuances of your landscape – the soil type, plant varieties, sun exposure, and topography. Based on this analysis, and keeping in mind your specific needs and preferences, we craft a tailored irrigation blueprint. This ensures optimal water delivery, leading to a thriving and vibrant landscape that stands the test of time.
We Help You Pick Suitable Sprinklers
It is critical to consider the water source and the pressure of the water source when deciding on sprinklers for your residential irrigation system. Gear drives require more litres per minute at higher pressure. MP rotator pop-up sprinklers are an excellent choice for scheme water systems because they use fewer litres per minute and can operate at lower pressure. So when flow and pressure are an issue, they're a great alternative to gear drive sprinklers. Standard pop-up spray sprinklers are an excellent option for both bore and scheme water systems because they require fewer litres per minute than other sprinklers if you use quality brands like HUNTER or TORO pop-ups and nozzles.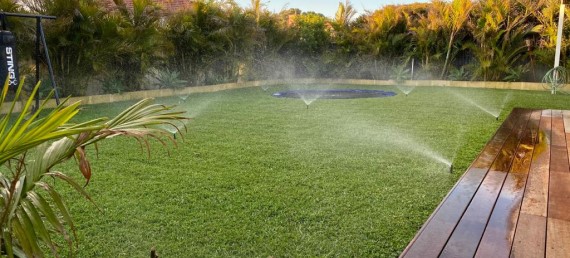 We Choose Quality Over Quantity
Although cheap is expensive in the long run, quality irrigation brands are preferable. There are many different types of controllers available, so choose one that meets your needs and budget. Talk to one of our irrigation specialists about your options; you'll be able to find the ideal controller for your residential irrigation system. Swell Irrigation is with you throughout the process, from consultation to repair and regular maintenance.
What is the Purpose of a Residential Irrigation System?
There are numerous reasons why a residential lawn sprinkler system can make your yard the envy of the neighbourhood.
Saves water: By dividing your home lawn irrigation systems into zones, you can water the sunny areas as needed while watering the shady, lower regions less.
Reduced costs: You automatically save on your monthly water bill with reduced water consumption.

Time-saving:

When you have an automatic control valve in your sprinkler system, you won't have to reserve hours to handle the job.
Get in Touch
Providing Durable Residential Irrigation Systems
A durable irrigation system is essential for keeping your garden in good condition. With the right irrigation system, your garden will survive and thrive. Residential irrigation systems are just as critical as commercial irrigation systems; you want a simple installation to avoid ongoing maintenance and costs. Allow us to install a dependable system that you can set and forget.
Get Convenient Troubleshooting
If you're having problems with your irrigation system, the problem is most likely with the solenoids. These are critical components of the system but also necessitate the most upkeep. We recommend quality brands such as BERMAD or HUNTER for your solenoids to avoid ongoing issues. This is especially important if it is the central solenoid for your scheme, as it can save you significant money on your water bill.
We install solenoids in valve boxes so that they are easily accessible. All solenoid wiring connections should be waterproof and located in a valve box. Reach out to us for your residential irrigation system requirements.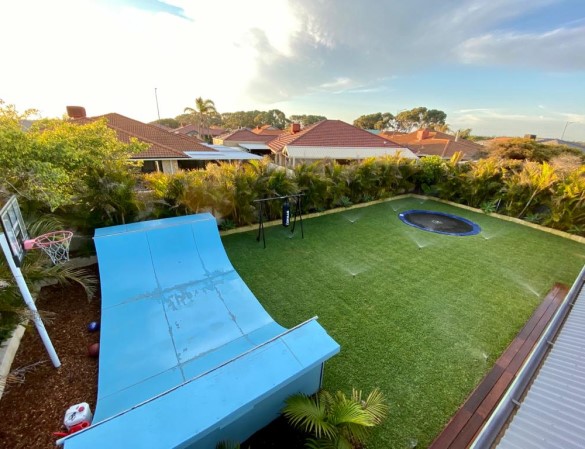 FAQ's
Frequently Ask Questions
1.

Why is irrigation important for residential properties?

Irrigation is essential to keep lawns and gardens healthy and lush. It helps to maintain the aesthetic appeal of your property and can also increase its value.
2.

What are some common types of residential irrigation systems?

Some common types of residential irrigation systems include sprinkler systems, drip irrigation systems, and soaker hoses.
Quality Services is what we do!
Interested in any of our services? Contact us to make an appointment and get started!
Copyright © 2022 Swell Irrigation. All Rights Reserved