Bore Pumps Repairs & Maintenance
Bore Replacements in Rockingham and Mandurah
At Swell Irrigation, our commitment doesn't end post-installation. We offer a comprehensive repair and maintenance service for bore pumps, ensuring they continue to operate at their best. Our team is equipped to handle everything from routine check-ups to intricate repairs, using state-of-the-art tools and techniques. Whether it's replacing worn-out components, cleaning the system, or troubleshooting operational issues, we ensure your bore pump remains a reliable water source for years to come.
Submersible pumps can operate for years without being noticed. However, you can perform some visual checks to evaluate the performance of your pump. Monitoring your pump output, checking for obvious water leaks, ensuring the electrical wiring is well protected, valves are in good condition, and everything is well sealed are all part of this. If you are unsure what to look for, scheduling yearly maintenance with Swell Irrigation and one of our consultants is a good idea.
The Importance of Regular Bore Pump Maintenance
Just like any mechanical system, bore pumps require regular maintenance to ensure they operate seamlessly. Regular check-ups help identify potential issues before they escalate, ensuring the pump's longevity and consistent water supply. Maintenance activities, such as cleaning filters, checking electrical connections, and inspecting for wear and tear, safeguard against unexpected breakdowns and optimize the system's efficiency.
Signs Your Bore Pump Needs Repair or Maintenance
Several indicators can signal that your bore pump requires attention. A noticeable drop in water pressure, irregular or inconsistent water flow, unusual noises during operation, or visible damage to any part of the system are red flags. Additionally, if your electricity bills see an unexpected surge, it might be due to the pump working harder than usual, suggesting it's time for a maintenance check.
Bore Pump Repairs And Maintenance Specialists In Rockingham
Swell Irrigation has been repairing pumps in the Rockingham region for many years. We have one of the best-equipped vehicles with a full range of spare parts and pumps and  experienced technicians who will get you back up and running quickly and smoothly. Our manufacturers have also factory trained them to repair all types and pumps. We will also repair brands we do not usually sell because we have an extensive spare parts network.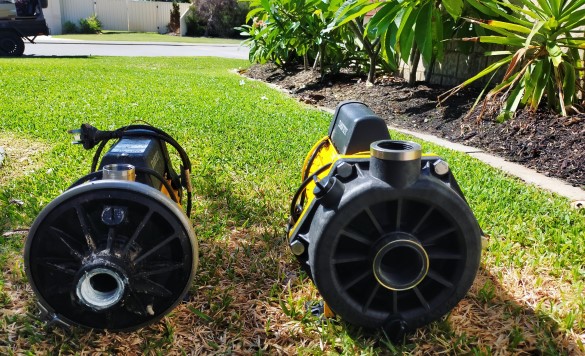 The Significance of Bore Pump Maintenance
When things are going well, it's easy to overlook routine maintenance tasks. However, bore water and pump systems require maintenance regularly. As a result, to keep your facilities running smoothly and avoid unnecessary damage to the motor or damage to the pump components below ground, you must schedule maintenance checks with professionals such as Swell Irrigation.
Get in Touch
How We Repair, Test and Keep Things Running
We service all makes and models of bore pumps. Everything from a 20L/min pond pump to a 1500L/min bore pump is available. Depending on the requirements and logistics, all pumps are repaired on-site or in our workshop.
We begin all repairs with a thorough mechanical and electrical inspection. This evaluation typically includes a full functionality test on our wet testing rig. This allows us to determine whether the problem is with the pump or elsewhere in your system. Then we will give you the option of having repairs done or replacing the unit with a quality new unit from our inventory.
FAQ's
Frequently Ask Questions
1.

Can a bore pump be repaired?

Most of the time yes, it can be as simple as replacing a capacitor or the check valve. If the motor has an electrical issue it can be rewinded by a pump specialist if it's in good condition and if the pump side is in working order.
2.

How much does it cost to replace a bore pump?

Above ground centrifugal bore pumps range between $900-$1500 depending on what size and phase.
Submersible bore pump replacements cost between $1200-$1800 depending on size and phase.
That is supply and fit with all necessary fittings and a licensed electrician doing the electrical part.
Quality Services is what we do!
Interested in any of our services? Contact us to make an appointment and get started!
Copyright © 2022 Swell Irrigation. All Rights Reserved