Soakwells in Rockingham and Mandurah
Swell Irrigation has been erecting concrete soakwells in Rockingham according to council regulations. We provide services to both the residential and commercial construction industries as well as private clients. Concrete soakwells' suitability for the task at hand will be determined by volume requirements, available area, and cost.
Why Swell Irrigation's Concrete Soakwells are the Best Choice
Swell Irrigation's concrete soakwells stand out due to their unparalleled quality, longevity, and performance. Manufactured with precision and designed to meet local council regulations, our soakwells boast of superior strength and resilience. Their robust nature ensures that they can handle the pressures of underground installation while providing optimal drainage solutions for years to come. When it comes to reliability, Swell Irrigation's soakwells are the undisputed choice.
How Swell Irrigation's Concrete Soakwells Improve Drainage
Our concrete soakwells are meticulously designed to offer an efficient solution for water runoff, safeguarding properties against waterlogging. By collecting and dispersing excess stormwater into the surrounding soil, Swell Irrigation's soakwells prevent pooling on your property, thereby preserving its structural integrity. Their unique design ensures optimal water seepage, promoting better groundwater recharge and reducing surface erosion.
Professional Concrete Soakwells Installation
Installation precision is vital for the functionality of soakwells. At Swell Irrigation, our seasoned professionals undertake each installation with meticulous care. From selecting the right location and depth to ensuring the soakwell aligns with the drainage infrastructure, every detail is given utmost importance. Our commitment to perfection ensures that once installed, the soakwell provides optimal drainage performance.
Why Do You Need a Soakwell?
As a homeowner, you must have a soakwell as it keeps the building from flooding in the case of a storm or any other overflow. They are set up usually under the ground to help collect excess water. Owing to your requirements, you can install a soakwell that fits your needs as they are available in various sizes.  If rainwater is not properly handled on your property, it can result in a number of problems. An accumulation of water on your property can result in a number of issues, in addition to the obvious impacts of erosion on your property and your neighbors, such as:
Collapsing and the erosion of building stumps

Footings and concrete pads sagging

Rising mold on the flooring, foundation, and walls

Wood decay

You may also face termite infestation as they enjoy drinking water and you can be their main source of supply.

You could have to make significant interior and exterior, above- and below-ground repairs and upgrades to your home if you don't manage the rainfall on your property well.
Swell Irrigation can help you prevent all soakwell problems.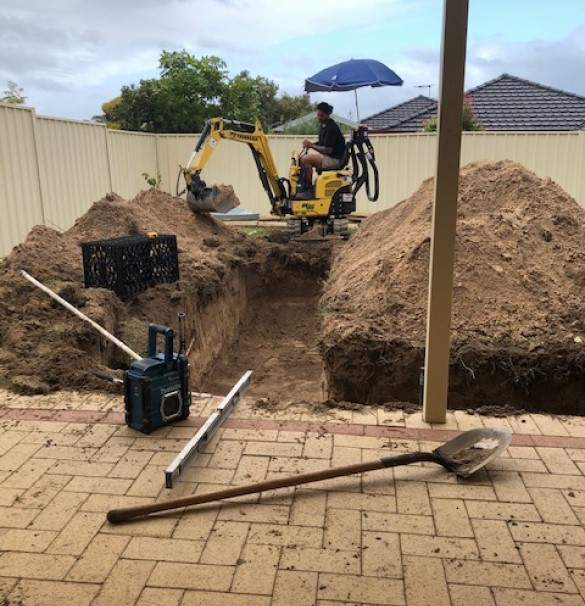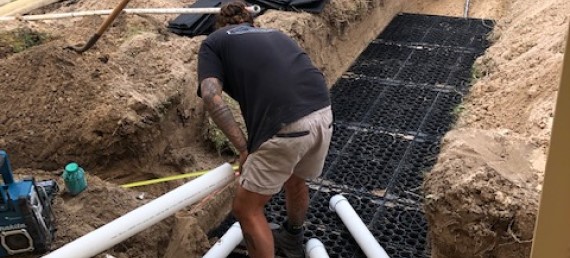 Are Soakwells the Best Option?
A soakwell, also known as or dry well, is an underground disposal system for surplus water, primarily rainfall and surface runoff, but also occasionally greywater. This underground tank collects rainwater that has been redirected via pipes, then allows the collected water to gently percolate into the soil before dispersing into the groundwater.
Why Opt For Swell Irrigation?
All of the services provided by Swell Irrigation, a local authority in soakwell installation, are top-notch. For all any installation of soakwells in Rockingham, you should work with an expert. We are also available for any queries regarding soakwells in Mandurah. As experienced professionals in this, we ensure that you achieve optimum results. We are very hands on in our approach and in every step such as selecting the proper size, depth to build, and choice of location as it is essential to optimal performance. Having worked with different terrains we are able to suggest the most appropriate that will suit your space and provide you with top-notch service.
Get in Touch
FAQ's
Frequently Ask Questions
1.

Why do we need soakwells?

It's the safest way to allow storm water to soak back into the natural water table without flooding or eroding the surrounding landscape.
2.

Can you see the soak wells?

Soakwells are buried underground and you can pave or turf over soakwells as they dont require any maintenance.
Quality Services is what we do!
Interested in any of our services? Contact us to make an appointment and get started!
Copyright © 2022 Swell Irrigation. All Rights Reserved