Irrigation System Installation Services in Rockingham and Mandurah
Swell Irrigation specialises in installing small residential systems to large commercial irrigation projects. In addition to lawn and field turf, we install and service gardens, planter boxes, trees, vegetable gardens, vertical wall gardens, green walls, rooftop systems, filtration, and pumping systems for rural industries, farms, ovals, and golf courses.
We offer comprehensive irrigation installation services at Swell Irrigation that cover everything from initial planning and consultation to supply and installation. We understand that every property is different, so we take the time to get to know your individual needs and requirements before creating a customised solution that's perfect for you.
Developing a Customized Irrigation System Design
Every landscape has unique watering needs, influenced by factors such as soil type, plant varieties, and local climate conditions. At Swell Irrigation, we prioritize crafting a tailored irrigation system design that caters to these specifics. Our approach involves thorough site analysis, understanding the water demands of different zones, and employing the latest technology. The result is a bespoke irrigation solution that ensures efficient water usage and optimal plant health.
The Benefits of Installing an Irrigation System
Installing an irrigation system offers numerous advantages. Not only does it provide consistent and adequate water to plants, but it also conserves water by reducing overwatering and evaporation losses. Automated systems free homeowners from the task of manual watering, saving time and effort. Moreover, a well-designed irrigation system boosts property value, enhances plant growth, and ensures a lush and vibrant landscape throughout the year.
Top-Notch Irrigation Installation Services in Rockingham and Mandurah
We provide irrigation installation services ranging from small residential systems to large commercial projects. We only use high-quality parts and materials, and our experienced team can handle all aspects of your project, from design to installation to maintenance. To learn more about our irrigation installation services, contact us today. We can assist!
We use cutting-edge tools and equipment to complete the job quickly and efficiently. Furthermore, our advanced technology ensures that your irrigation system installation is proper.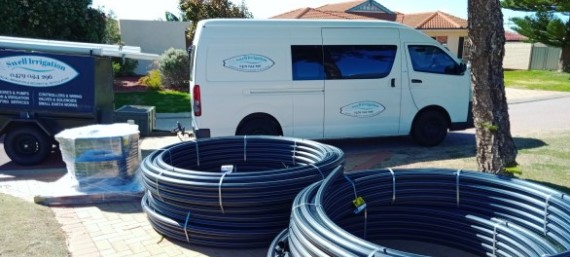 We Opt for Smart Irrigation Installation Services
We have all of the latest irrigation technology, from new wifi controllers to improved sprinklers, to ensure your system is up to date. We also offer a variety of products at various price points to ensure you get the best deal possible.
Irrigation Installation Specialists to Your rescue!
As certified installers, we take pride in being irrigation experts in all aspects. We have extensive experience with many projects, including home irrigation systems, commercial buildings, parks, public open spaces, tree farms and nurseries, and development and subdivisions. Whatever the size or scope of the project, we are committed to completing it quickly and to a high trade quality finish. Look no further than qualified irrigation if you need qualified and experienced irrigation installers.
Get in Touch
Explore More with Smart Irrigation Controls
Part of conserving water is delivering the proper amount, reducing water waste, and saving you money in the long run. Smart irrigation or wifi controllers automate the work required to keep your landscape looking beautiful, giving you peace of mind. These controllers also adhere to water restrictions.
We can ensure your area receives the precise amount of water from anywhere in the world with a simple phone click using adjustable Bluetooth timers or smart wifi controllers.
Why Choose Swell Irrigation?
Swell Irrigation is the place to go if you need irrigation installation services. We have a wide range of project experience, so that we can help you with all aspects of irrigation planning and design, from concept to completion. No matter what size or type of property you have, our team can design and install an irrigation system that meets your specific needs in minimal cost. We've worked on projects of all sizes, from small residential properties to large-scale commercial developments, so we have the experience and expertise to handle any job.
Furthermore, we stay current on industry innovations and irrigation technology, so you can be confident you're getting the best irrigation installation services. Don't hesitate to get in touch with us today to discuss your irrigation requirements!
FAQ's
Frequently Ask Questions
1.

What's the best quality brand to use for installation?

Hunter, rainbird and toro sprinklers,vinidex pvc and fittings then use christy glues for joining it all together.
2.

What's the difference between irrigation and reticulation?

Irrigation and reticulation are both watering systems. In the commercial and rural industry it is referred to as irrigation where in the domestic and residential industry it is referred to as reticulation.
Quality Services is what we do!
Interested in any of our services? Contact us to make an appointment and get started!
Copyright © 2022 Swell Irrigation. All Rights Reserved