Turf Installation & Laying Services
Local Turf Installation Experts in Rockingham and Mandurah
You get the instant completed look of a well landscaped yard when you install turf. Having been in this industry for more than a decade we specialise in offering turf installation services, which are among the finest in the industry. Our top aim is to provide top notch services to our customers. Our turf is supplied by a trusted local supplier that provides the best quality turf in the industry, ensuring that you're putting your money towards a good quality product that is going to be a great investment for your property. Whether you need a turf installed for your house or commercial space, you can connect with us to get your free quote today.
The Benefits of Professional Turf Installation & Laying Services
Investing in professional turf installation and laying services from Swell Irrigation guarantees not just the aesthetic enhancement of your outdoor space but also the longevity and health of your lawn. Our expert team ensures that the soil is prepared meticulously, creating a strong foundation for the turf. This attention to detail results in even growth, fewer maintenance issues, and a lush green appearance that elevates the overall appeal of your property.
Customized Turf Solutions for Every Garden
Every garden has unique requirements, be it in terms of soil composition, sunlight availability, or design specifications. Swell Irrigation understands these intricacies and offers tailored turf solutions that cater to the specific needs of every garden. By assessing the individual characteristics and needs of your outdoor space, we ensure that the chosen turf variety flourishes, enhancing the beauty and vitality of your landscape.
Professional Turf Installation Services
Choosing Swell Irrigation's professional turf installation Rockingham services is an investment in quality and expertise. Our trained technicians employ the latest techniques and tools to ensure that the turf adheres seamlessly to the ground. Proper installation not only ensures immediate visual appeal but also promotes healthy root growth, resulting in a lawn that's durable and remains lush over time.
Why Do You Need A Turf For Your Space?
There is nothing more inviting to a backyard than a big patch of freshly mowed lawn. With turf installed you can enjoy the benefits of having a cool surface for your children to play no in the hot summer months, as well as a space that can be used for multiple purposes such as a game of backyard cricket to hosting parties on. Turf is a fresh and neat option to add to your yard that will compliment any landscaping. Make the correct decision and connect with us to know more about all the options that you can explore.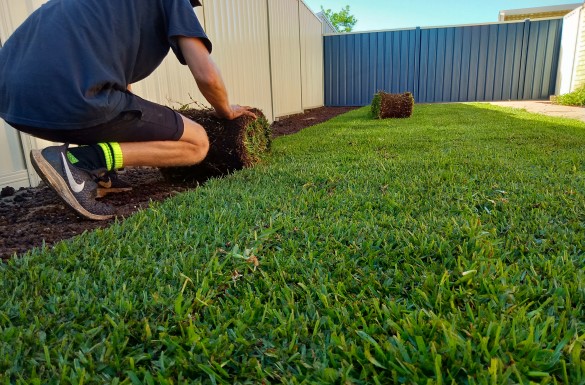 We Work Swiftly
Trust our experienced team to get the job done right. Our team will do all the hard work for you when it comes to turf installation, and you can rest easy knowing that your entire turf will be installed with the utmost care and attention to detail. Our specialists will carry out the work with high precision, from accurate measurement of dimensions to preparation of the base for turf installation.
Why Choose Us?
A few reasons why you should connect with us
Free Quote
Yes, you heard that right. Our team will assess the place and provide you with you a free quote for new installations. 
Quality above all
We only use the best quality material that is also durable and strong.
Best Rated by all past customers
Owing to the fact that we use the best quality of material and provide stellar customer service, all our reviews are glowing. We have received a 5 star rating repeatedly for providing end-to-end turf installation services.
Quick Solutions
Equipped completely with all the required tools, our van is handy and can quickly reach all areas in the Rockingham and Mandurah areas.
Get in Touch
Why Professionals Are Better Than DIY?
Many may advise you that doing this turf installation on your own will help you save costs and that the process is very easy. But there are a few important factors that a professional installer is more beneficial for you:
Expertise
Each space is unique and different. To create a turf that is correct your space, our team can leverage their experience and suggest materials, post-care, maintenance and designs accordingly. 
Timely Completion
The turf installation process is not as easy as it may seem and is also time-consuming, especially if you have a large space. You may have to remove time from your daily schedule to work on this project and convert your home into a mini construction zone, which in turn could put added pressure on you to work faster leading to more mistakes. An expert will ensure that your project is completed on fast as well as efficiently.
Quick Solution
The process of installing turf can make or break the way your turf establishes. Having your turf installed by a professional ensures that the prep work of the surface is done adequately as well as the right products are used on the soil to nourish the freshly installed turf. An expert is equipped to deal with all this and more to ensure that your final turf is refined and visually appealing.
FAQ's
Frequently Ask Questions
1.

Does swell irrigation do lawn removal?

We can do the whole lot, from existing lawn and soil removal to full leveling and soil conditioning, reticulation installation to supply and laying new turf.
2.

Why choose sir walter buffalo?

Sir walter buffalo is a local grown turf that suits our climate, hardy and thick beautiful green lawn all year round. It's very pet and kid friendly and can be shade tolerant.
Quality Services is what we do!
Interested in any of our services? Contact us to make an appointment and get started!
Copyright © 2022 Swell Irrigation. All Rights Reserved