Commercial Reticulation Services Rockingham and Mandurah
There are many responsibilities that come with owning a commercial property, but we won't let reticulation be one of them. We provide a wide range of commercial reticulation services in Rockingham, Mandurah & Nearby Areas like Golden Bay, Baldivus, Kwinana, Shoalwater, Port Kennedy and Karnup areas, including auditing, repairing, automating, programming, and maintaining existing commercial reticulation systems. Swell Irrigation's reticulation experts can design, install, and maintain complete watering systems that preserve your commercial premises and lawns looking their finest by reducing costs while also being sustainable and saving water.
Fully Equipped For Commercial Reticulation Services
Swell Irrigation is a highly specialised irrigation company that provides out-and-out commercial reticulation services in Mandurah to small and large businesses throughout Rockingham and Mandurah. We can easily manage everything from routine maintenance and repairs for an organisation to new installments for government property.
Our systems and services are highly professional, guaranteeing that each and every job is monitored, recorded, and completed in a timely and efficient manner appropriate for your commercial property with fully equipped vehicles and expert technicians. We can assist you if you are planning a new commercial project or require reticulation for your existing commercial property. We have an extensive experience designed to cover larger areas, so give us a call and let us know how we can assist you with your commercial reticulation requirements in the region.
Importance of Commercial Reticulation
Reticulation systems enhance the aesthetics of your company's property, making it a more positive experience for visitors. Investing in commercial reticulation can also lead to significant savings on your water and energy bills, as well as contribute to the environment by minimizing water waste.
Our designers will take into account the individual characteristics, objectives, and cost estimates when developing a reticulation system that fulfills your requirements regardless of the size of your commercial property. We are highly experienced in developing the most economical and environmentally conscious reticulation systems, whether you require pipework or bore water, sprinkler lines, or automated pop-ups.
Swell Irrigation's team follows a comprehensive quality strategy to ensure that every project is built and assembled within the agreed-upon timeline and budget. Many public organisations and property managers rely on us to develop their commercial reticulation projects because we endeavour for the most excellent standards of craftsmanship and customer support.
Get in Touch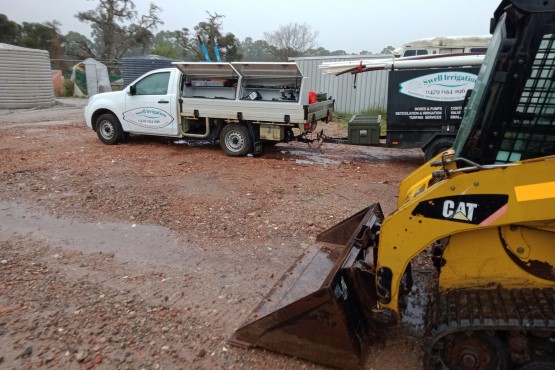 Why Choose Us?
Our team is committed to learning the most recent practises ensuring that your system continues to function flawlessly for decades to come. We specialise in simple-to-use automatic reticulation controllers. We build intelligent reticulation systems at Swell Irrigation that use the newest technology to cut your water usage and save you money while conserving water, which is precisely what commercial properties require. Designing and implementing a watering system is one of the most significant improvements you can make to your commercial properties. Make sure you select the best company, i.e., Swell Irrigation.
FAQ's
Frequently Ask Questions
1.

What's the best solenoid to use?

Bermad flow control solenoids are the most reliable solenoid on the market.
2.

What commercial reticulation experience does Louis from swell irrigation have?

All the way from parks and public open spaces, to residential and commercial site subdivisions.
Quality Services is what we do!
Interested in any of our services? Contact us to make an appointment and get started!
Copyright © 2022 Swell Irrigation. All Rights Reserved