Professional Reticulation Repairs Rockingham & Mandurah
Swell Irrigation is a name you can rely on when it concerns professional reticulation repairs. We repair water leakage, verify water efficiency, and do end-to-end repair tasks. For any challenges or faults that your system may be experiencing, our technicians provide expert reticulation repairs in Rockingham, Mandurah and nearby areas of Golden Bay, Baldivus, Kwinana, Shoalwater, Port Kennedy and Karnup. Our team will assess and check your system to diagnose any problems and evaluate the condition of your lawn and gardens to optimise water supply.
Identifying and Repairing Leaks: Preserving Water Resources
Detecting leaks early in your irrigation system is essential for conserving water. Swell Irrigation specializes in promptly identifying and rectifying leaks, ensuring minimal water wastage. By preserving water resources, we not only protect the environment but also ensure that your landscape receives the right amount of moisture.
Timely Reticulation Repairs: Preventing Further Damage
Immediate attention to reticulation problems can prevent more significant, costly damages in the future. Swell Irrigation's proactive approach involves quickly diagnosing issues and implementing effective repair solutions. This promptness ensures that small issues don't escalate, safeguarding your landscape and saving you potential expenses down the line.
Signs of Reticulation Issues: Knowing When Repair is Needed
Being aware of reticulation issues is crucial for timely interventions. Common signs include uneven watering,  solenoid problems, low water pressure, or malfunctioning controllers. Swell Irrigation educates clients on these signs, ensuring that they can seek professional assistance at the earliest hint of a problem.
Expert Solutions and Reliable Results
At Swell Irrigation, our commitment is to provide solutions that stand the test of time. Harnessing years of industry experience, cutting-edge technology, and a dedication to excellence, our team delivers results that are both reliable and effective. When you entrust your irrigation needs to us, you're choosing a partner who values quality above all.
Skilled Technicians for Reticulation Repairs
We can repair and replace valves, reconfigure the wires, repair and set up control systems, repair and add sprinkler systems, and repair and replace broken, leaking pipes, among other things. Our technicians are also trained to identify and locate any gaps in the system. No regardless of how difficult the repair job is, our technicians can solve it and leave your system functioning properly for you.
Our premium services of reticulation repairs in Rockingham, WA, are just a quick phone call away, and we can assist you in reviving your garden. Our team will ensure that your home's garden or the lawn that faces your shop or office is well-watered throughout the year, enhancing the charm of your premises.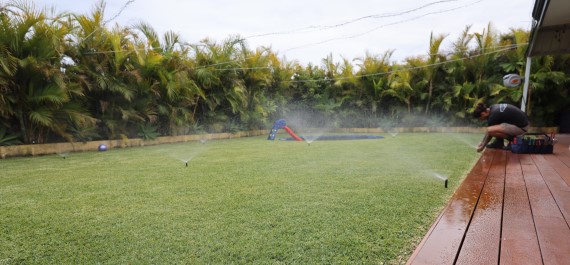 Importance of Reticulation Repairs
Watering your lawn correctly is the number one thing you can do to keep it in good condition. It goes beyond simply putting out a sprinkler, turning it on, and letting it run for a while. As a result, you may over-water or under-water the grass, causing problems. Furthermore, because reticulation systems involve underground pipes, homeowners cannot figure out what's happening. Professional reticulation repairs are required to help ensure proper hydration for your lawn.
Providing Timely Reticulation Repairs
Like your car, lawn irrigation and reticulation systems need regular repairs to ensure they work correctly year-round. Especially as the seasons and watering allowances change, you should ensure a qualified technician regularly provides your property with a complete system check-up.
We use only the latest equipment to ensure an accurate system evaluation. Our team will suggest necessary system repairs and affordable upgrades depending on the complete check-up. So, if you need professional reticulation repairs in Rockingham, don't hesitate to contact us so we can schedule a regular repair visit.
Get in Touch
FAQ's
Frequently Ask Questions
1.

Can Reticulation controllers be repaired?

Most of the time it costs more for components of the controller to repair it than what it costs to supply and fit a whole new unit.
2.

What's the most reliable basic residential reticulation controller?

Hunter x core controllers are very reliable and easy to use, same as rain bird esp.
Quality Services is what we do!
Interested in any of our services? Contact us to make an appointment and get started!
Copyright © 2022 Swell Irrigation. All Rights Reserved